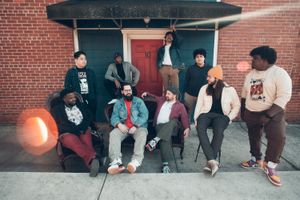 "

[Misnomer's] music is as exciting as it is uncategorizable. The horn-centric outfit blends jazz fusion, deep funk, instrumental hip hop, and modern classical to create an intoxicating sound that's unlike anything else in town."
ABOUT US
Misnomer is an ensemble based out of Atlanta, Georgia. What began as a collective of students from the University of Georgia in 2015 has evolved into a group of dear friends channeling their wide influences of neo soul, hip-hop, funk, jazz, and classical music to create something original.
Misnomer has enjoyed performing with several national-touring acts such as Here Come the Mummies, Marshall Gilkes, Turkuaz, CBDB, The Werks, Couch, and more. They bring raw energy and fresh musicianship to every performance that is bound to captivate audiences. They also have a strong educational focus and have worked with several schools including University of Georgia, Pope High School, and Woodland High School.
Their most recent record Backburner (December 2022) showcases their unique blend of influences with exciting and engaging tunes. Check out Backburner on all streaming platforms!
"There are some bands one may stumble upon that manage to create music that ultimately defies the traditional limitations of genre and simply must be experienced to be understood… Misnomer is one of those bands."  
-  Daniel Graham, Georgia Local Spotlight
"These guys are a young, talented, innovative, and an extremely funky band out of Athens, GA... Impressive horn arrangements, air tight rhythm section, and killer songs make for a great night with this band." 
 -  Seth Hendershot, Owner of Hendershot's Coffee